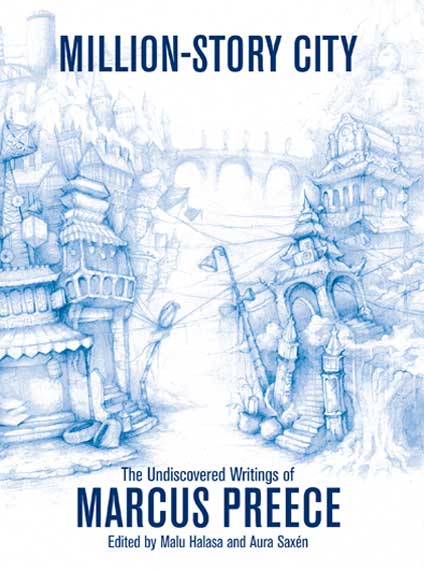 The Undiscovered Writings of Marcus Preece
Edited by Malu Halasa and Aura Saxén
Two guys named Tom Bone. A spaceman speaking only lyrics from pop songs, confusing the aliens. A Gogolesque telesales agent with a dog problem. A return to a desolate Australian mining town. Cowboys, detectives and witches, unlike any you've ever seen. An irate email to Sepp Blatter. Wise children. Musings on whiskey, the sea and the end of the damn world.
Marcus Preece was one of the most interesting writers you've never heard of. Before his death in 2017 at fifty-three, the filmmaker, teacher and editor had completed dozens of short stories, screenplays, comic strips, poems and music journalism; he left behind incomplete notes and drafts for dozens more.
Million-Story City is a fabulous place populated by highly original, delightful characters, where storybook conventions mix and flow in a sequence of tales for both adult and younger readers. Preece's comics and screenplays are acerbic and witty, and his poems reveal a more serious, melancholy streak. Unexpected and singular, this anthology is a tribute and a sheer delight.
---
ISBN 9781911475507 – Paperback – 216 mm x 150 mm – 264 pages
 – £10.99